BTF – Ball Transfer Frame Conveyor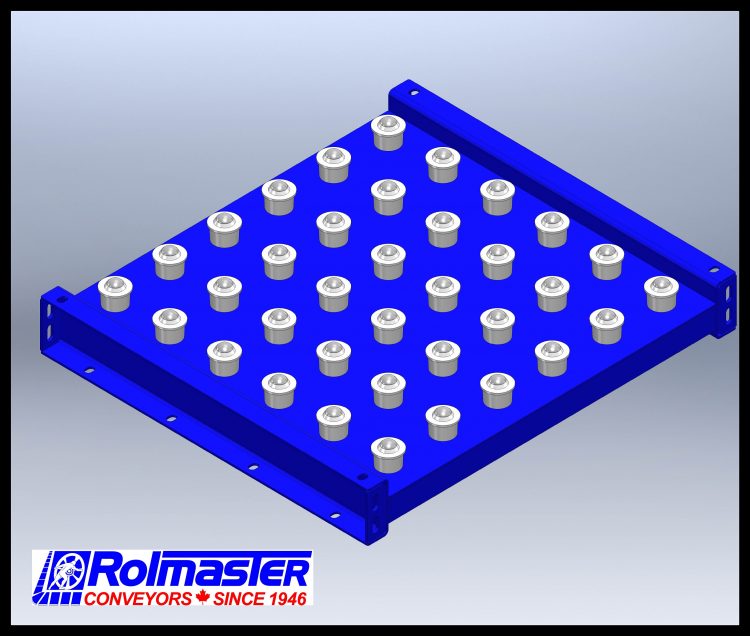 BALL TRANSFER (FRAME STYLE) CONVEYOR DESCRIPTION:
BTF – Ball Table Frame Style
CONVEYOR USAGE SUMMARY:
Ball Transfers are used when products need to be manually rotated or pushed off in multiple directions such as a work station or when two or more conveyor lines converge and packages must be transferred from one line to another.
---
BALL TRANSFER TABLE SPECIFICATIONS:
OVERALL LENGTH: 6" to 120"
OVERALL WIDTH: 5" to 75"
BETWEEN FRAME RAILS: 2" to 72"
BALL CENTERS: 2", 3", 4", 6"
BALL TRANSFER: 1" Dia. Carbon Steel | 1/4" – 20 Bolt
SIDE CHANNEL: 3-½" X 1-½" X 10 GA
CROSS SUPPORTS: 1-½" X 1-½" X 3/16"
FRAME MATERIAL: Plain Steel
FRAME COUPLING: Butt Couplings
FRAME FINISH: 5017 Traffic Blue
OPTIONAL FINISH: 1021 Safety Yellow – 3001 Signal Red – 7015 Slate Grey – 9005 Jet Black – 9006 Aluminum White
CAPACITY: Varies pending roller centers and BFR. Contact us to review your application.
MODEL STRING: Ball Table Type – Ball Material – BFR – Ball Centers Distance – Overall Length – Finish
Example: BTF-C-24-4-24-5017 (Ball Table Frame Style, Carbon Steel, 24" Between Frame Rails Length, 4" Center to Center, 24" Overall Length, 5017 Traffic Blue)
Optional Features:
Knee Braces or Mid Support Holes
Side Rails (Toe Out Left, Right or Both)
End Stop (Front, Rear or Both)
BTF-Ball Transfer (Frame Style) Drawing Download
BTF - Ball Table Frame Style

If you have a question or custom inquiry, please contact one of our Account Executives directly by phone at 519-740-3201, Email, or complete our Quote Request Form for to receive a no obligation custom quote.