CR – 2511C Chain Driven Live Roller Conveyor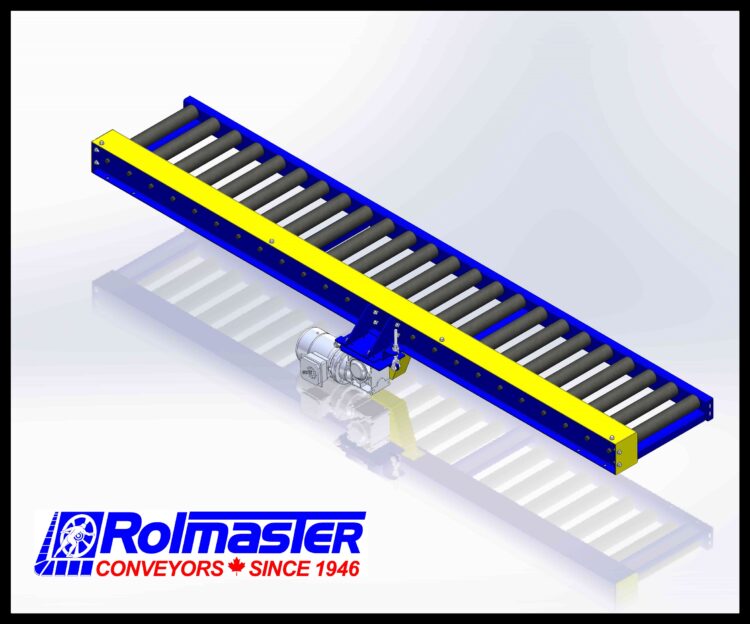 CHAIN DRIVEN LIVE ROLLER CONVEYOR DESCRIPTION:
CR – 2511C Chain Driven Live Roller Conveyor
CONVEYOR USAGE SUMMARY:
A heavy duty powered roller conveyor ideal for applications that require a positive drive when conveying products. Typically used for pallet handling systems. The 2511C rollers have a metal housed bearing which allows sprockets to be welded closer to the end of the roller if required to suit non-standard spacing or to match competitors systems.
---
CHAIN DRIVEN LIVE ROLLER CONVEYOR SPECIFICATIONS:
OVERALL LENGTH: 40" to 120"
OVERALL WIDTH: 11" to 75"
OVERALL HEIGHT: 17-3/16"
EFFECTIVE BETWEEN FRAME RAILS: 4-½" to 68-½"
MOTOR OPTIONS:
ELECTRICAL INPUT:
575V / 3 Phases / 60HZ
230 to 460 V / 3 Phases / 60HZ
110 V / 1 Phase / 60HZ
HP: ½, ¾, 1 or 1-½"
MOTOR ORIENTATION OPTIONS:
Top: Center, Front or Back
Bottom: Center, Front or Back
Front & Back Orientations are Only Available when Overall Length is more than 60"
ROLLER CENTERS: 4", 4-½", 5", 6"
ROLLER: Round Tube, 2-1/2″ Diameter, 11 Gauge
ROLLER AXLE: 11/16" Hex Axle
SIDE CHANNELS:
6" X 1-½" X 3/16"
4" X 1-½" X 10 GA
FRAME MATERIAL: Plain Steel
FRAME COUPLING: Butt Couplings
FRAME FINISH: 5017 Traffic Blue
OPTIONAL FINISH: 1021 Safety Yellow – 3001 Signal Red – 7015 Slate Grey – 9005 Jet Black – 9006 Aluminum White
CAPACITY: Varies pending roller centers and BFR. Contact us to review your application.
MODEL STRING: Conveyor Type – Mechanism Type – Roller Model – BFR – Rollers Centers Distance – Overall Length – Frame Type – Finish – End Connections & End Cover Type – RPM/Motor Number
Example: CR-D-2511C-18-5-120-F8-5017-CA-100M17 (Chain Roller Conveyor, Drive Mechanism, 2511C Roller, 18" Between Frame Rails Length, 5" Center to Center, 120" Overall Length, Frame8, 5017 Traffic Blue, Sprocket on Front Side/Collar on Back Side & No End Cover, 100 RPM/Motor 17)
Optional Features:
Knee Braces or Mid Support Holes
Side Rails (Toe Out Left, Right or Both)
End Stop (Front, Rear or Both)
CR - 2511C Chain Roller Conveyor

If you have a question or custom inquiry, please contact one of our Account Executives directly by phone at 519-740-3201, Email, or complete our Quote Request Form for to receive a no obligation custom quote.