CR2511 2-1/2" Dia. – 11 Ga. Roller – 50A18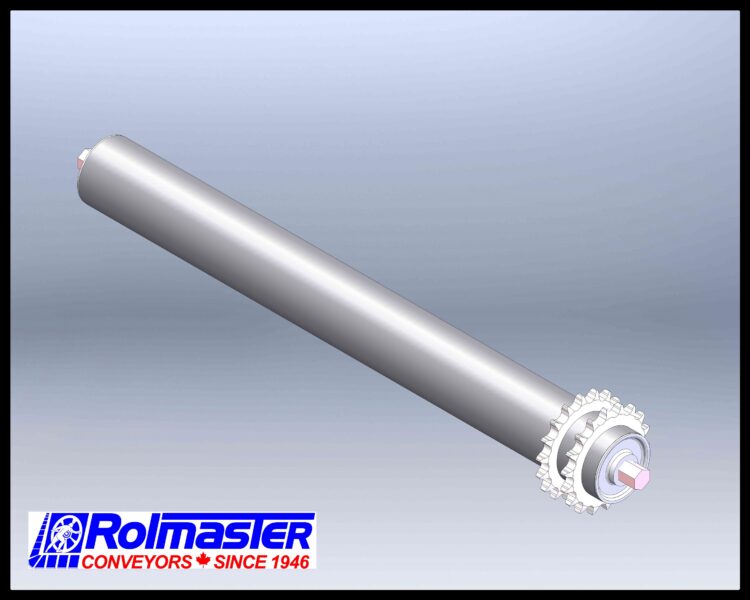 Roller Description:
CR2511 2-1/2" Dia. – 11 Ga. Roller – 50A18
Roller Usage Summary:
A heavy-duty roller utilized in chain drive live roller conveyors. Suitable for roller centers from 5.0" c/c.
---
CR2511 SPECIFICATIONS:
BETWEEN FRAME RAILS: 8″ to 72″
STANDARD SPROCKETS: 50A18
MINIMUM C-C: 5″
ROLL CONSTRUCTION: Round Tube, 2-1/2″ Diameter, 11 Gauge
BEARINGS: Precision, Zinc Plated Steel Housing with Front protection Rubber Seal, Greased, 11/16″ Hex
LOAD CAPACITY: 1000 to 454 lbs.*
TEMPERATURE RATING: -4°F to 180°F
AXLE RETENTION:
Standard – spring loaded one side.
Optional – cotter pin, fixed bolt, loose bolt or fixed axle.
TUBE TYPE: Standard Carbon Steel.
MODEL STRING: Roller Model-BFR-Axle Retention-Sprockets Type
Example: CR2511-24-SL-50A18X2.5 (2511 Chain Roller, 24" Between Frame Rails Length, Spring Loaded Axle Retention, No.50 Sprockets)
Optional Features:
Custom Axle Extension from BFR
Custom Sprockets Spacing
Non-Standard Sprockets
*Capacity decreases as BFR increases. See Roller Capacity Chart for reference.
CR2511 – 50A18 Drawing Download
CR2511 - 50A18

If you have a question or custom inquiry, please contact one of our Account Executives directly by phone at 519-740-3201, Email, or complete our Quote Request Form for to receive a no obligation custom quote.