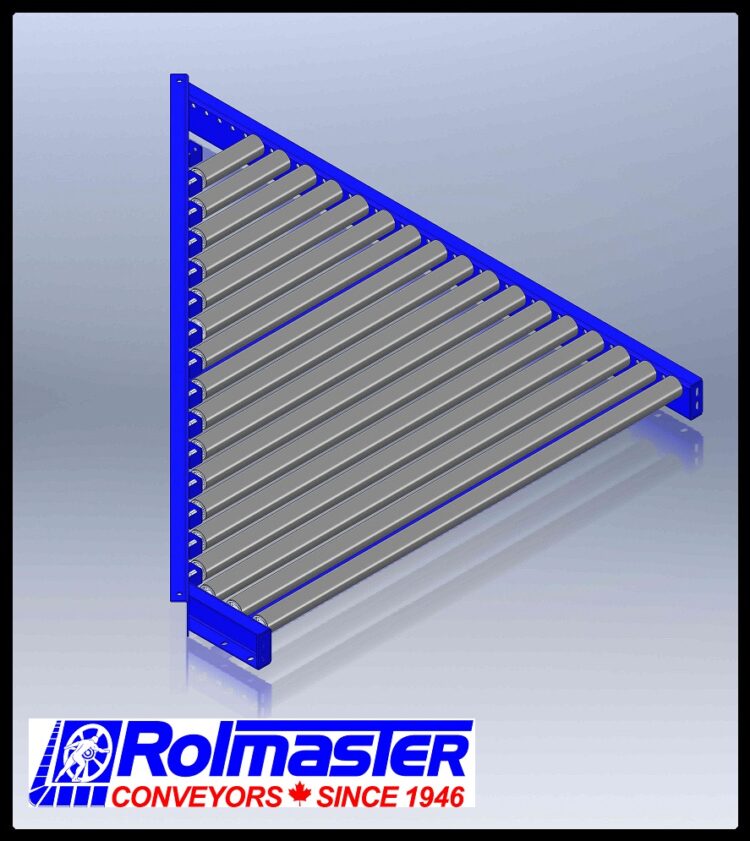 GRAVITY ROLLER MERGE CONVEYOR DESCRIPTION:
GRM – 19145HD Gravity Roller Merge Conveyor
CONVEYOR USAGE SUMMARY:
A medium duty conveyor ideal for applications that require an economical, non-powered means for conveying products. Merges help transfer product from a main conveyor line to adjacent lines as required.
---
GRAVITY ROLLER CONVEYOR SPECIFICATIONS:
OVERALL WIDTH: 10.5" to 57"
STRAIGHT LENGTH: 9.5" to 63.5"
BETWEEN FRAME RAILS: 7.5" to 54"
REGULAR FRAME ROLLER CENTERS: 3"
AVAILABLE ORIENTATIONS: Left & Right Hand
AVAILABLE ANGLES: 30 Degree and 45 Degree
ROLLER: Structural Round Tube, 1.9″ Diameter, 0.145" Wall thickness
AXLE DETAIL: 7/16" Hex Axle
SIDE CHANNELS: 3-½" X 1-½" X 10 GA
CROSS MEMBERS: 1-½" X 1-½" X 3/16"
FRAME MATERIAL: Plain Steel
FRAME COUPLING: Butt Couplings
FRAME FINISH: 5017 Traffic Blue
OPTIONAL FINISH: 1021 Safety Yellow – 3001 Signal Red – 7015 Slate Grey – 9005 Jet Black – 9006 Aluminum White
CAPACITY: Varies pending roller centers and BFR. Contact us to review your application.
MODEL STRING: Conveyor Type – Roller Model – BFR– Rollers Centers Distance – Straight Length – Angle – Finish
Example: GRM-19145HD-24-3-9.5-45-5017 (Gravity Rollers Curved Conveyor, 19145 Heavy Duty Roller, 24" Between Frame Rails Length, 3" Center to Center, 9.5" Straight Length, 45° Angle, 5017 Traffic Blue)
Optional Features:
Side Rails (Toe Out Left, Right or Both)
GRM - 19145HD Gravity Roller Merge Conveyor