AVAILABLE ANGLES: 90°, 60°, 45°, 30°
OVERALL WIDTH: 18", 21", 24", 27", 30", 39"
BETWEEN FRAME RAILS: 15", 18", 21", 24", 27", 36"
INSIDE RADIUS: 36"
ROLLER CENTERS: 3"
ROLLER: 1.69" TO 2-½" Dia. X 16 GA Galvanized Steel
AXLE DETAIL: 7/16" Hex Axle
SIDE CHANNELS: 7-½" X 1-½" X 11 GA
FRAME MATERIAL: Plain Steel
FRAME COUPLING: Butt Couplings
FRAME FINISH: 5017 Traffic Blue
OPTIONAL FINISH: 1021 Safety Yellow – 3001 Signal Red – 7015 Slate Grey – 9005 Jet Black – 9006 Aluminum White
CAPACITY: Varies pending roller centers and BFR. Contact us to review your application.
MODEL STRING: Conveyor Type – Roller Model – BFR– Rollers Centers Distance – Inside Radius – Angle – Frame Type – Finish
Example: LSC-T16925P-18-3-36-90-CF1-5017 (Line Shaft Curved Conveyor, Tapered 16925 Precision Roller, 18" Between Frame Rails Length, 3" Center to Center, 36" Inside Radius, 90° Angle, Curved Frame1, 5017 Traffic Blue)
Optional Features:
Side Rails (Toe Out Left, Right or Both)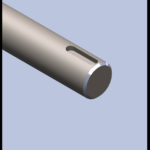 Note: Shaft Ends are Always Keyed to Support Coupling Additional Sections in the Future.