SH-P – Support Heavy Duty – Pivot Head 3.0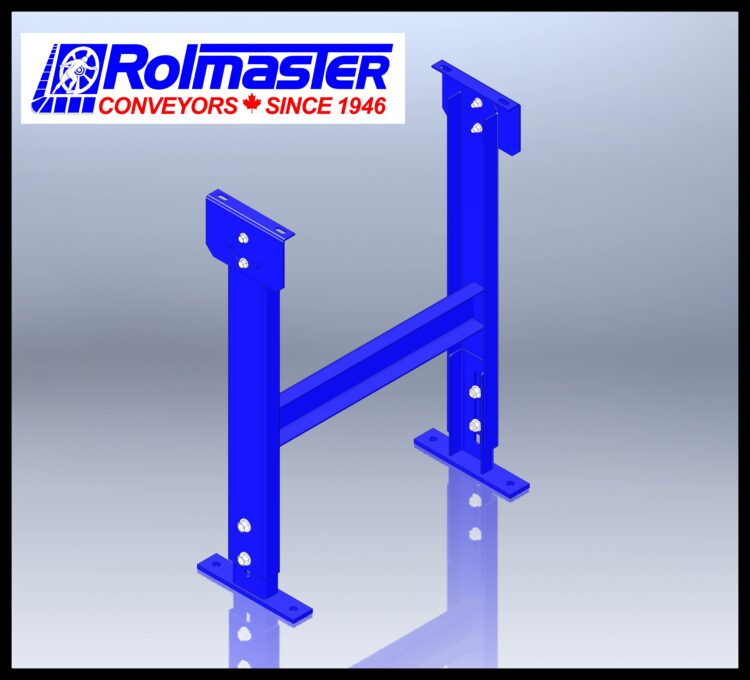 SUPPORT DESCRIPTION:
SH-P – Heavy Duty Support (Pivot Head) – +/- 3″ Adjustment
SUPPORT USAGE SUMMARY:
Utilized in Heavy Duty Applications with sloped conveyors where additional adjustment is required.
---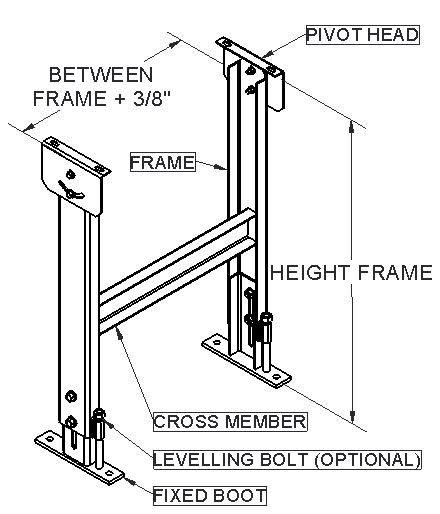 HEAVY DUTY SUPPORT SPECIFICATIONS:
BETWEEN FRAME RAILS: 1.5" to 72"
HEAD TYPE: Pivot
HEAD ANGLE RANGE (FROM HORIZONTAL AXIS):
HEIGHT RANGE: 18-1/2" to 72"
BOOT PLATE TYPES: Fixed or Caster mounting
MATERIAL: Plain carbon steel
CROSS MEMBER LOCATION: Cross member to be moved outside when height is less than 23".
STANDARD FINISH: 5017 Traffic blue
OPTIONAL FINISH: 1021 Safety yellow – 3001 signal red – 7015 slate grey – 9005 jet black – 9006 aluminum white
CAPACITY: 3000 lbs.
MODEL STRING: Support Heavy Duty – Head Type – BFR Value – Actual Height –Angle – Colour – Caster/ Levelling Bolt
Example: SH-P-22-30-3.0-0-5017 (Support Heavy Duty, Pivot Head, 22" Between Frame Rails Width, 30" Height, 0 Degree, 3" Adjustment Range, 5017 Traffic Blue)
Optional Features:
Wheel dia.: 5" or 6"
Top plate: Swivel or rigid
Braking mechanism: Only available on swivel (Swivel caster available w/o Tech-Lock)
Capacity: 5"- 600 LBS. / 6"- 800 LBS.
SH-P – Heavy Duty Support (Pivot Head)  – 3.0 Drawing Download
Casters-Boots-Options-SH Drawing Download
Knee-Brace-Details-SH Drawing Download
Levelling Bolt Detail Drawing Download
SH-P, Heavy Duty Support - 3.0 Pivot Head

If you have a question or custom inquiry, please contact one of our Account Executives directly by phone at 519-740-3201, Email, or complete our Quote Request Form for to receive a no obligation custom quote.